Marlie



Shipped Characters

Status

Friends/Bandmates

Ship Rivals
What is Marlie?
"Marlie" is the romantic pairing of Mo Banjaree and Charlie Delgado (Mo + Ch/arlie). It is confirmed that Charlie likes Mo, but Mo likes Scott. In the movie, they don't end up together because Mo gets back together with Scott. In the book, they end up together.
Competitors: Scohini
Marlie Moments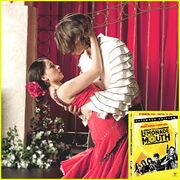 Charlie stares at Mo as her car goes by but he trips and falls down.
Charlie stares at Mo during soccer tryouts, causing him to mess up.
When Scott leaves the table after talking to Mo, Charlie quickly comes and takes his place. Mo tells him about her problem.
Whenever Mo denies to do something (like denying the invitation to join Rising Star by Miss Reznik), so does Charlie.
When Mo says that she plans on not seeing Scott for the rest of her life in Dante's Pizzeria, Charlie looked surprised and seemed glad about it.
Charlie asked Mo out, but she said no.
Charlie was upset when Mo and Scott got back together.
Charlie was worried about Mo when she kept sneezing while they were playing at Dante's Pizzeria.
Community content is available under
CC-BY-SA
unless otherwise noted.